Félix "xQc" Lengyel » Streamer Profile, News and Controversies
xQc is one of best-known streamers and reaction content creators on Twitch. He caused more than his fair share of headlines in the esports world, and not all of the with his playing skills. From an esports career in Overwatch to being one of the most influential content creators on Twitch, this is everything you need to know about Félix "xQc" Lengye.
Do you think xQc is a strong player? You should try to bet on Twitch streamers.
Who is xQc?
Felix Lengyel is a Canadian Twitch streamer and former Overwatch League player. He has been involved in Overwatch since it's release, and has previously played for teams like Denial eSports, Arc 6 and Dallas Fuel. After leaving the Overwatch scene, he bloomed as a streamer and content creator.
After a somewhat unceremonious dismissal from the top tier pro circuit, he now largely focuses on his streaming career on Twitch, while still subbing as a tank for Gladiators Legion, an OWL Contenders team. In addition to his impressive gaming skills, he is also known for his incredible ability to piss off large swaths of people with inappropriate remarks, sometimes well into the territory of homophobia and sexism. Such remarks are what cost him his position in Dallas Fuel and the OWL.
Ever since leaving the OWL, Felix found success on Twitch and Youtube by becoming a full-time streamer covering everything from Pokemon Cards to Meme Culture and everything in between. He currently lives with fellow streamer Sodapoppin, while renovating his house.
The xQC Twitch channel has over 5.9 million followers.
xQc Setup and Socials
While the stream setup keeps evolving, xQc's latest build consists of the following PC configuration and peripherals:
CASE – Fractal Design Define R6
Motherboard – Gigabyte Z390 AORUS Master Gaming Motherboard
CPU – Intel Core i9-9900K
GPU – EVGA GeForce RTX 2080 Ti XC ULTRA GAMING
RAM – Corsair Vengeance LPX 16GB (2x8GB) DDR4 3000MHz
Mouse – Logitech G Pro Wireless Gaming Mouse
Mousepad – Logitech G640 Large Cloth Gaming Mousepad
Keyboard – SteelSeries Apex Pro TKL Mechanical Gaming Keyboard
Monitor – ASUS ROG Swift PG258Q 24.5"
Headset – HyperX Cloud II
Streamcam – BRIO Ultra HD Pro Computer Webcam
As xQc has stopped playing any high intensity games where settings actually give a competitive advantage, we omit the specific settings for each game. After all, we watch xQc for the reactions and drama and not for actual game play.
Writing of drama, you can find xQc on all social media platforms.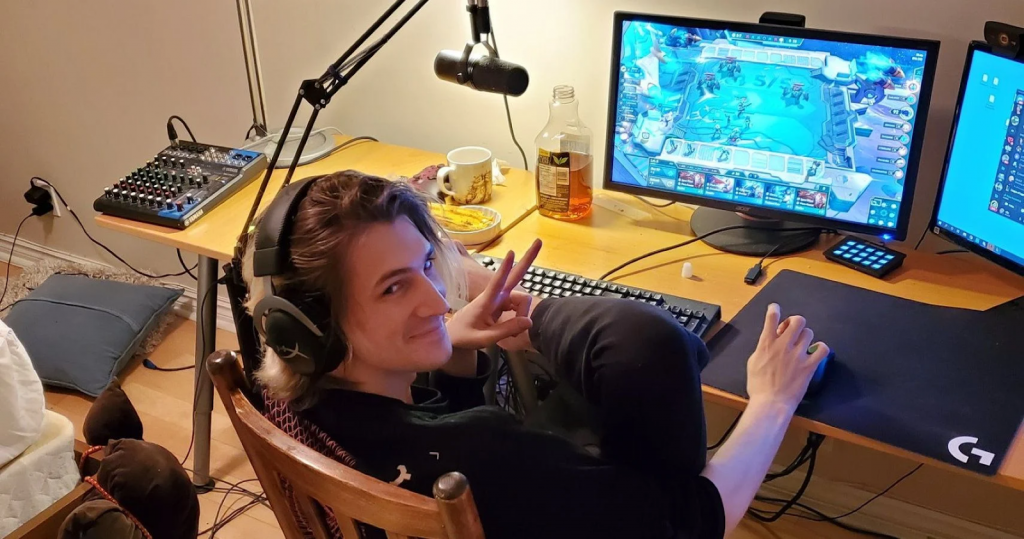 xQc Controversy List
xQc is no stranger to controversy. He thrives and grows his follower base by being involved and having reactions to every event happening in popular content creation culture. His "modus operandi" usually involves him picking out the topic of the day and reacting to it. It goes as far as his own followers calling him "React Andy", a term used to describe Twitch streamersthat exclusively react to other content without playing any games.
"Dud dud, I swear dud I will stop being a React Andy, last video and then we play some games dud" -xQcOW
TriHard 7 Controversy
What seemingly "killed" xQC's OWL career was the TriHard emote usage during official OWL games. His punishment was severe, but also not out of the blue. Felix was no stranger to insults during his OWL career, and was fined multiple times for reasons including account sharing, posting offensive memes, as well as racism and homophobia. None of these "violations" came from a place of hate, as Felix is far from racist and homophobic, but his careless attitude towards people that are not as tone-deaf and meme cultured as he is caused plenty of controversy.
xQc Twitch Ban
Four Twitch bans in total have been handed out to xQc over the years. His first ban was all the way back in July 2019, and the reason was watching a video with pornographic scenes edited over to seem safe for work. There was 1 frame in total where the "covering" was not done properly and ultimately got him banned for 72 hours. In February 2020, xQc was again banned for 72 hours for showing a nude NPC in game. A few months later in June, he was banned for another 24 hours for watching gorillas copulating.
The longest and most controversial xQc ban however came in November 2020, after he decided its a good idea to stream snipe DrLupo during a Twitch Rivals Fall Guys event. After his actions were made light of, he received a 7 day suspension from the platform, his longest ban to date.
xQC banned on NoPixel GTA Server
While finding great joy in roleplaying in GTA Online, Felix has gained a reputation of being a bad sport when it comes to actual role play. The NoPixel server is a haven for GTA streamers who take on various roles and play them out on stream.
xQc usually doesn't care much for the RP aspects, and has earned a total of 5 bans on the server, with the last one being permanent. Some of his mishaps include, shooting police officers for no reason, plowing through other players while driving and being toxic in general. His offenses are nothing bad, but they do break the server's rules. His fifth and final ban prompted him admitting that the ban was deserved and long time coming.
Run-ins with gambling
Felix is not a stranger to gambling, esports betting and betting on Twitch streamers. While the debate over having any sort of wagering content on Twitch rages, xQc has quickly brushed off any criticism aimed towards him and anything pertaining to this industry.
xQC Facts
Felix Lengyel was born on November 12, 1995, which would make him 25 years old at the time of writing.
He is 188 cm (6,2ft) tall. Yeah hes shorter then Brigitte.
xQc net worth is estimated at around 3-5 to 4$ million dollars.
xQc is dating fellow streamer Adept since 2019.
They currently live with fellow streamers Sodapoppin, Nmplol and Malena.
What's next?
xQc is expected to continue both his streaming and potentially pro gaming career if the game fits. He likes Valorant as of late and may pursue a career in the title if he is up for it. Finally, xQc is likely making headlines with another controversy soon, so keep an eye out for him daily.