Félix "xQc" Lengyel » Streamer Profile, News and Controversies
Félix 'xQc' Lengyel is one of the most popular and most instantly recognisable streamers on Twitch. Since his career kicked off in 2016, he has claimed far more than his fair share of headlines in and around the esports world, and not all of them have been related to his gaming skills. His experiences range from holding down an esports career in Overwatch to becoming one of the most powerful and impactful content creators on Twitch. Today, we're here to break the man down, telling you everything you need to know about Félix 'xQc' Lengyel.
Who is xQc?
Hailing from Canada, Felix 'xQc' Lengyel is a Canadian content creator and former Overwatch League (OWL) player. He carved out his career in the earlier days of Overwatch, rapidly becoming known as one of the title's best players when it was first released back in 2016. During his professional career, xQc competed under the banners of Denial Esports, Arc 6, and Dallas Fuel. However, it took retiring from Overwatch for xQc to truly grow, and after he'd quit competing, his popularity exploded.
For many years, xQc has been known as being a relatively controversial content creator. He was rather unceremoniously dismissed from the Overwatch League, and he's regularly landing himself in hot water on Twitch as a result of his 'lack of a filter'. On certain occasions, xQc has found himself dangerously close to being 'cancelled', blurting out homophobic, sexist, or downright bizarre comments.
However, for some, it's that transparent, no-holds-barred attitude that makes him so entertaining to watch. Since leaving the OWL, Félix has grown remarkably fast on platforms like Twitch and YouTube, becoming one of the highest-paid streamers in the history of the industry. He's a varied creator, covering everything from Pokémon to GTA RP, and from live gambling to, yes, Overwatch.
The xQc Twitch channel currently boasts more than 10.9 million followers, and on YouTube, xQc has another 2 million subscribers.
xQc Setup and Socials
It can be difficult to lock down a top-tier streamer's build, as it's constantly evolving based on tech changes and sponsorships. However, here's xQc's setup as of 2022:
CASE – ASUS ROG Strix Helios
Motherboard – ASUS ROG Crosshair VIII Formula
CPU – AMD Ryzen 9 5950x 16-core
GPU – ASUS GEFORCE RTX 3090 24GB
RAM – G Skill Trident Z Neo 128GB
Mouse – Logitech G Pro Wireless Gaming Mouse
Mousepad – Logitech G640 Large Cloth Gaming Mousepad
Keyboard – SteelSeries Apex Pro TKL Mechanical Gaming Keyboard
Monitor – ASUS ROG Swift PG258Q 24.5"
Headset – HyperX Cloud II
Streamcam – BRIO Ultra HD Pro Computer Webcam
While some streamers play the most high-intensity games and often give up their settings for each game, xQc is no longer a 'real' competitor. Therefore, we've decided to omit the settings that xQc uses for specific titles.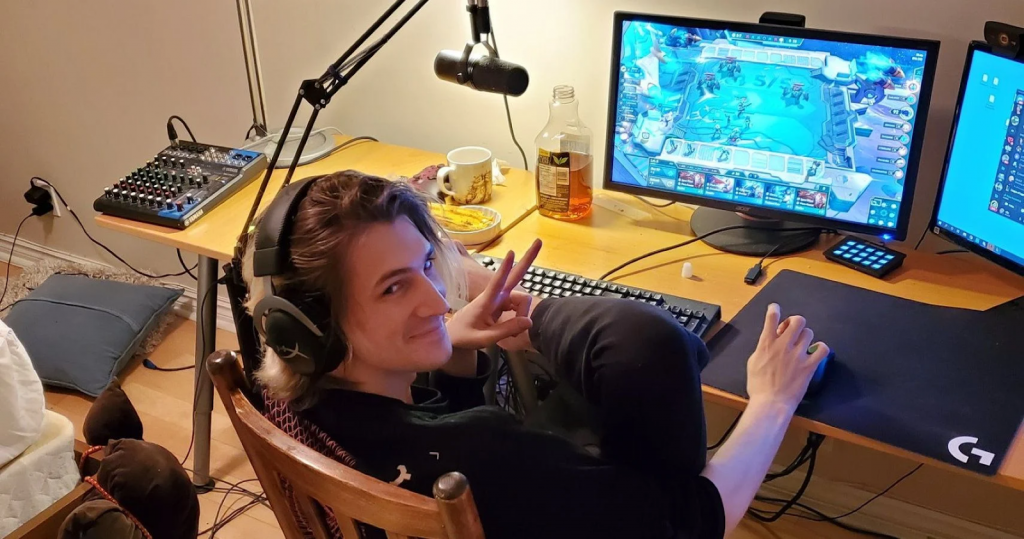 xQc Controversy List
As we've already pointed out, xQc is certainly no stranger to controversy and scandal. In fact, he thrives in these conditions and has quite literally never stopped growing, despite finding himself in hot water on several occasions in a relatively short period of time. He's a very outspoken individual, often kicking off his streams by picking out trending news topics and reacting to them in front of an audience that numbers in the tens of thousands.
We're breaking down xQc's most iconic controversies, from the borderline illegal to the downright bizarre. As a result of xQc's overwhelming popularity, almost nothing he does stays behind closed doors for long. As a content creator, every inch of his life is scrutinised by both his followers and the press, and every crude comment or weird reaction surfaces almost instantly in the popular media.
TriHard 7 Controversy
Back in the day, xQc effectively killed his own Overwatch career through the use of inappropriate emotes and offensive comments. Reportedly, xQc was 'made an example of' for using the 'TriHard' emote in a racially disparaging manner. This was a subject of a massive and ongoing debate, but it was effectively the straw that broke the camel's back for Félix 'xQc' Lengyel. He was also fined numerous times for account sharing, offensive meme sharing, and the occasional bout of racism and homophobia. According to those close to xQc, he's 'far from' racist and homophobic, but as we've already mentioned, he comes with no filter.
In other words, xQc can be described as being tone-deaf and rather impulsive with what he says.
xQc Twitch Bans
Since his streaming career kicked off, xQc has been banned numerous times on Twitch. These bans have ranged from a three-day suspension to a 24-hour 'cool-off' period, and they've almost always been related to the same topic. Firstly, xQc was banned for briefly revealing a pornographic snapshot – that earned him 72 hours offline in July of 2019. Then, in February of 2020, xQc was banned for another three days, this time for displaying a nude NPC in a game he was playing.
In June of the same year, xQc was banned for streaming a clip of gorillas mating. By way of a response to this scandal, xQc said on Twitch:
BANNED FOR 24 HOURS, SHOWED A GORILLA SUPPOSEDLY F***ING ANOTHER FOR ABOUT A SECOND BY ACCIDENT. NOTHING TO SEE HERE, MOVE ALONG. ENJOY YOUR DAY.
Moving on, xQc was banned in November of 2020 following a stream-sniping incident involving DrLupo. Now, Twitch as a platform does take stream-sniping very seriously, and in this case, xQc was stream-sniping during the iconic Twitch Rivals event, a regulated and official tournament on the platform. For this infraction, xQc received a whopping seven-day ban. In 2021, xQc was banned for streaming the Tokyo Olympics, and then again later in the year for reasons that were never truly revealed.
At the start of 2022, Twitch began threatening another ban in light of xQc's sudden trend of streaming television shows on the platform. However, this never surfaced, with xQc going so far as to 'laugh off' the threats.
xQc banned on NoPixel GTA Server
Some of xQc's most popular streams have come from his lengthy sessions in the world of GTA RP. He's enjoyed massive growth that has been centered around his adventures in the NoPixel server, which is one of the most popular GTA V roleplaying servers out there. However, Félix has always suffered from the inability to be a 'good sport' in RP, regularly breaking the rules and ruining the fun for others.
Typically, he'll tout the RP aspects and wreak havoc on the server he's currently playing on, which earned him five successive bans, the final of which was permanent. Even though his streams brought massive exposure to the NoPixel platform, it wasn't enough to balance out the amount of trouble he caused on the server. As a result of ongoing toxicity, rule-breaking, and being a general nuisance, xQc was suddenly banned from NoPixel forever.
xQc Gambling Controversy
Felix is by no means a stranger to gambling, esports betting and betting on Twitch streamers. However, in recent months, the situation has worsened immeasurably, with a huge gambling controversy surfacing that has xQc at the very centre of it all. For several months leading up to and way into 2022, xQc has spent a huge amount of time on-stream gambling and playing slots, quite literally blasting millions of dollars down the line, all in front of a live audience.
Now, the core issue here is that many of xQc's followers are impressionable youngsters, very susceptible to the influences of their favourite Twitch streamer. In May of 2022, it was revealed that xQc's stream viewers wagered $119 million using his exclusive code on a betting platform. There are many top industry personalities slamming xQc for the trend, accusing him of fuelling a very dangerous fire that is influencing 'a generation of gamblers'.
Also in May of 2022, Félix Lengyel admitted he was 'addicted' to gambling after losing more than $2 million in a single month. Many of his fans have raised concerns about the streamer's habits, openly opposing his on-stream portrayal of gambling, which at times brings 'Slots' to the very highest and most visible trending ranks of Twitch's homepage.
xQc Facts
Félix Lengyel was born on November 12, 1995, which would make him 26 years old at the time of writing.
He is 188 cm (6,2ft) tall.
xQc net worth is estimated to be around $9 million.
xQc is known to move home constantly, avoiding being doxxed and staying out of the crosshairs of stalkers.
If you're interested in following xQc on any one of the many social media platforms out there, here are the links you'll need: